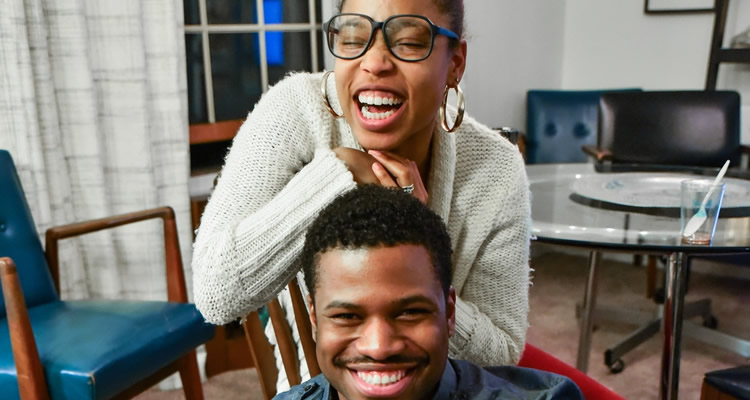 Treacherously Beautiful: The Path of Sexual Purity in the 21st Century
"For wide is the gate and broad is the road that leads to destruction, and many enter through it. But small is the gate and narrow the road that leads to life, and only a few find it." (Matthew 7 v.13-14)
In my time as a Christian, I have heard many men lament to me that women and the whole 'no sex before marriage' issue, or the monogamous marital lifestyle is the greatest challenge in their spiritual walk. In fact, some would credit women as being the chief architects of the broad road that Jesus speaks of in Matthew's book. I find it intriguing that most of the problems of Old Testament days no longer pose any great concern in this our modern world. Microwaves, automobiles, antibiotics, the Internet and other advances – technological and beyond, have seen to that. But evolution has yet to conquer the challenge that sexual purity presents. The boys at Apple, Orange or BlackBerry can't sort it. Neither, it seems, can the institute of marriage (which some naively enter believing it to be the cure to any philandering past). Canvassing the thoughts of both male and female friends spawned a surplus of opinions too broad to recount in their entirety. To say that everybody has a perspective is by no means a generalisation. One school of thought suggested that sexual purity is a hopeless cause; believing instead that humans, and especially men, were not designed to be with only one person or engage an existence absent of promiscuity. "It's impossible!" was the cry. Well I can assure you my brothers and sisters (especially the brothers), that whatever ideas adverts, movies and contemporary culture may provoke, this is not the case. For if God has created us in his image and instructed us to imitate him (Ephesians 5 v.1), then it is possible. Though I am convicted of this, oftentimes I found these opinions became a catalyst for more questions than answers. Questions such as why there is so little uniformity over what purity is (despite it being well documented in the Word)? Why is it such a sticking point for guys? Why is it so coolly accepted that Gods army is heavily populated by defeated soldiers on this battlefield? Why, why, why? Eventually I stopped with the questions and, as well as becoming honest with myself, petitioned the Holy Spirit for answers.
Purity! What?
If I was to believe what the world classed as sexual purity, I would tell you that it is having sex with a condom. Speak to church folk and the word on the pews directly links purity with virginity. Well, for the fundamental reason that impurity can still exist in both of these scenarios, I quickly threw these out. A more careful search uncovered what to date, has been the strongest explanation of purity I have seen. In very 'matter-of-fact' fashion it is defined as, 'the state of being without mixture'. Something without mixture retains beauty, significance in innocence and, crucially, purity. Allow me to elaborate. Take a bottle of pure Evian (a friend tells me it's the best though I can't taste the difference) water that is sealed. If you were thirsty and I offered it to you I'm sure you would gladly oblige. Now imagine that I had first opened the bottle, drank from it, and then offered it to you to drink. Though I know some people who would still drink it (others wouldn't dare), you perhaps would not receive it as readily. Further still, consider if I now spat in the water. Exactly. Although the content of the bottle is still Evian water – it looks the same and has the same consistency – it is no longer pure. Unfortunately, this all too often exemplifies what the church and its people have become. We have Gods message but not his image; we talk like him, but we do not look like him. Essentially purity is Jesus; or at least he is the representation of the concept in human form. As such, for us 21st century folk, purity is the re-presentation of his image in us.
Why Purity?
In my twenty-seven years on earth thus far, if there is one thing I have come to know it is that if you do not know why you are doing a thing, it is doubly difficult to do that thing – especially when adversity rears its head. Essentially, it is about attaching purpose, rather than sentiment; or conviction, as opposed to good intent, to our actions. I recall a conversation with one of my junior brothers in which I asked him what he would look for in a partner. After overcoming his initial reluctance, he eventually fired back some depressingly generic responses. Among them was that she had to be a Christian. In devil's advocate mode, I probed and asked him why. He was stumped. I laughed because I knew he was reciting what he had heard (probably from me), but without understanding why. Unfortunately, this is a fundamental question that left unanswered, will invariably create havoc when the ethos of an undertaking, however noble, is challenged. I believe many try to walk the path of sexual purity in this fashion. You've heard it from the pulpit or perhaps a parent has mentioned that it is the right way. That's good, but in a hailstorm of arrows made fiery by cultural trends, my hunch is that such a shield will prove only wafer-thin.
2 Timothy 2 verses 20 to 21 says, 'In a large house there are articles not only of gold and silver, but also of wood and clay; some are for noble purposes and some for ignoble. If a man cleanses himself from the latter, he will be an instrument for noble purposes, made holy, useful to the Master and prepared to do any good work'. Among a host of worthy reasons, personally this is one of my greatest motivators for attaining purity. Knowing that the Master has work specifically for me, which could be jeopardised by my state of purity was a great start. Learning what the work was further strengthened my resistance. This, I believe, is a major reason why God grants vision (Acts 2 v.17). It should propel us beyond the need for momentary pleasures. After vision, I began learning more of God and his nature, as from this, life is drawn. On more than one occasion, the Creator expresses dejection at the fact his created do not know him. Isaiah 1 verses 2 to 3 says, "I reared children and brought them up, but they have rebelled against me. The ox knows his master, the donkey his owner's manger, but Israel does not know, my people do not understand." It is this understanding that is paramount, for the unexplained is the unattained and the unattained (in Gods kingdom) is costly. Why? Because life is never really about us and our selfish will. Your purity will affect nations and/or generations, and is by no means to be gambled with. I say without flippancy that my greatest wish is to be knocking on the Father's door in a position to say, like Jesus, "It is finished" (John 19 v.30). What a testimony! To have fulfilled all that you were created for. Picture all who would be blessed, in your lifetime and those to come. That is a legacy largely dependant on this matter of purity. Imagine where you would be today if the Son abdicated his vision for short term pleasures, and then ask yourself if some of your lifestyle choices are worth it.
Also to be considered is the bonding power of sex. This extends beyond the flesh to your spirit and soul. I doubt it is any coincidence that God chose the very first book of the Bible to express that man and woman would unite to become 'one flesh' (Genesis 2 v.24). Paraphrased, Paul said in his first letter to the Corinthians, 'Do you not know that your bodies are members of Christ himself? Shall I then take the members of Christ and unite them with a prostitute? Never! He who unites himself with a prostitute is one with her in body. But he who unites himself with the Lord is one with him in spirit.' (6 v.15-17) What this verse fails to mention is that uniting with a prostitute (which effectively is either fornication or adultery) also makes you one in spirit. Frankly my brothers, what this opens you up to is not worth Beyonce, Halle, Cheryl or any other fantasy you may carry. Soul ties are powerful and can desecrate a marriage or place you in union with unwanted spirits. I understand that a lack of knowledge will breed ignorant actions, but the time has come to do your homework. The truth has liberating power (John 8 v.32). It is no surprise that Solomon advises us to, 'Say to wisdom, "You are my sister," and call understanding your kinsman; they will keep you from the adulteress' (Proverbs 7 v.4-5).
Hindsight also gives us reason to contend for purity. The book of Numbers recites a story in which, as a result of sexually immoral behaviour, God's anger burned and 24,000 Israelites lost their lives (25 v.1-9). So notorious was the event that it warranted mention in the New Testament as well. In discussion of this event Paul said, 'Now these things occurred as examples to keep us from setting our hearts on evil things as they did.' (1 Corinthians 10 v.6) He continues in verse 8 saying, 'We should not commit sexual immorality, as some of them did – and in one day twenty-three thousand of them died. We should not test the Lord.' The fear of the Lord is truly the beginning of wisdom (Proverbs 9 v.10)! The potential consequence of impurity has been suffered as an example to us. If you need something more current to convince you, look no further than the so-called scandals involving the likes of Tiger Woods, John Terry, Ashley Cole, Tye Tribbett and so on and so on. Surely we must be convinced that the act is not worth the aftermath. Besides, our bodies are not our own; they were bought at a premium (1 Corinthians 6 v.19-20). Just as you would have high expectations of any expensive purchase you make, God's standards are high because you were costly.
How can I be pure?
In answer to the question of how one can strive for purity, it is perhaps best to first highlight how you can't. Like a desire without a plan, the goal will not be achieved if attempted by our efforts alone. Paul was right to emphasise that we can do all things through him who strengthens us (Philippians 4 v.13). There is nothing worth achieving, nothing that courts legacy, that can be accomplished solo. Just ask Samson who spent his life leaning on his ability until he eventually fell.
The word advises us to, 'Flee the evil desires of youth, and pursue righteousness, faith, love and peace, along with those who call on the Lord out of a pure heart.' (2 Corinthians 2 v.22) Key to this passage are the words 'pursue' and 'with'. The former suggests that purity is something that requires a battle, tenacity, effort and, crucially, is trying to get away from us. We cannot be passive and effective in matters of sexual purity. When discussing this topic with others I asked if they felt it was natural. The overwhelming response was that it isn't and I would agree. In man, God has placed particular desires that are challenged by the paradigms in which we are instructed to satisfy them. But this is not an excuse to give in! On the contrary, these boundaries are in place for our security and freedom, so we must fight harder to follow the Word closely. Joseph, one of my bible favourites, modelled this admirably. After the advances of Potiphar's wife, he did not negotiate; he fled! He had a dream and such an act was not part of the plan. He lost his garment but you can't always save it all. You may have to lose your garment, 'friend' or pastime to save the dream. But it is the big picture – the one that offers perspective – that we must chase. The latter key word, 'with', suggests that the quest for purity is fought with others. On your journey you must be accountable to somebody. Ideally that person should also be a Christian who understands spiritual things. So forget Fantasy Football for a minute, and assemble your 'life' team. They could win you far more than a virtual league title.
It is important to be clear on the fact that purity is a process and not a destination that you arrive at after making a decision. Let us not even fatigue ourselves trying to achieve purity by our works, for that is just a precursor to frustration and guilt. I once was told that a person must be a good amateur before they can be a good professional. Just as you would not journey from Sunday League football to the Premiership, let us understand that we do not transform from impure, filthy beings, to purity personified overnight. But let us rejoice in the fact that there is a way out. I do not write this piece from a judgmental vantage point. Rather I am sharing this to offer encouragement as well as advice regardless of where you are on your treacherously beautiful journey.
Romans 8 verses 1 to 4 says, 'Therefore there is now no condemnation for those who are in Christ Jesus, because through Christ Jesus the law of the Spirit of life set me free from the law of sin and death. For what the law was powerless to do in that it was weakened by the sinful nature, God did by sending his own Son in the likeness of sinful man to be a sin offering. And so he condemned sin in sinful man, in order that the righteous requirements of the law might be fully met in us, who do not live according to the sinful nature but according to the Spirit.' I can almost hear the collective sigh of relief. Clearly, there is reason to fight another day.
Well, I write to encourage you that the narrow road does have an address and, thankfully, residents too. My prayer is that a greater number of us can navigate our way there. We must, because although we live in a different age, the rules remain the same because the Creator of them does not change (Malachi 3 v.6). Will the journey feature some pot holes? I'm sure. Temptations? Certainly, but this is not sin unless it concedes to desire. Is there a chance of cuts and bruises? I say don't rule out broken bones! But if 'life' is the final destination, then like our brother Paul, I do not even consider these present 'sufferings' (Romans 8 v.18). Let us die to self rather than be dead in sin by corralling our thoughts and actions. Let us stop renouncing our authority in Christ. Let us be deliberate in our pursuit of purity. If I had to create a slogan it might read, 'Choose Purity. Choose Life.' Nike would be proud; but I suppose Daddy would be even more satisfied. In any case, I'm sure He could do with more company at the small gate. So who is up for a treacherously beautiful road trip?